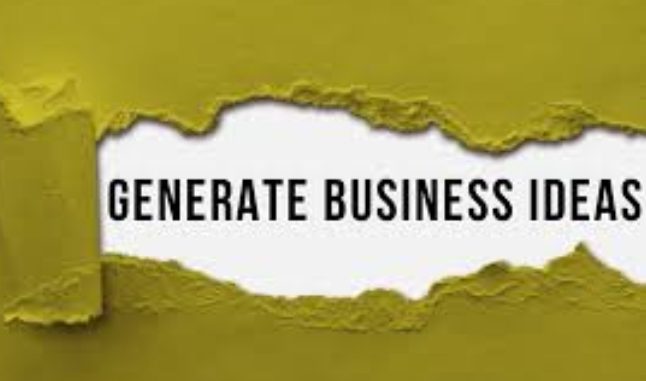 There are two ways you can do business: selling your products or offering your services to clients.
For instance, you could make hair products or follow the chain of distribution and either sell on wholesale or retail to your clients. Secondly, you can offer your services as a hairstylist. Either one can fetch you some good money.

Now that's two business ideas already gotten just from understanding the sale of products and rendering of services. If you are finding it a bit difficult to snag a business idea, this article is for you.
I'm going to highlight how you can even get hundreds of business ideas depending on how intentional you are. Follow me…

Apart from the all-important strategy of establishing businesses that add value to people's lives, these are eight factors you need to consider to get that money-fetching idea, viz:
THINK OF IDEAS THAT SOLVE PROBLEMS
Firstly, you need to be very good at identifying the problems of people. Let's borrow a leaf from my earlier example: Hairstyling. Since every Tom, Dick, and Harry would normally get a shop at strategic parts of town so that clients can easily access them, you can think outside the box by considering those clients who can't always come out of their houses or are too tired after a long day's work to come to the salon. Are you getting this picture? I'm talking about a home service hairstylist.

This way, you'll be solving a problem for clients in this category, got it?

THINK OF IDEAS THAT SAVE PEOPLE'S MONEY
Who doesn't want to conserve their money? It's an innate disposition in everyone. That's why no one buys anything in the market without first bargaining. And people would normally want to do business with the seller who has products and renders services that are pocket-friendly. So why don't you leverage on this?

THINK OF IDEAS THAT MAKES THINGS OR CHORES LESS UNPLEASANT
One chore I utterly dislike is washing white clothes ( for those of us still washing manually). But It became better when someone invented the Hypo cleaner. Like other bleaching agents in the market, this helps in removing stubborn stains from white clothes and fabrics. It solves a problem and at the same time makes washing less terrible.
And of course, the washing machine saves us a lot of stress. You could think of something like this, you know?

YOU CAN TURN SOMETHING YOU ARE PASSIONATE ABOUT INTO A BUSINESS
This should be easy. What's that thing you love doing? A hobby perhaps? For example, you're good at telling jokes and organizing small parties, why not consider being a comedian or a Master of Ceremony(MC)? Carefully strategize how you can monetize it.

THINK OF A BUSINESS IDEA THAT MAKES LIFE EASIER
No one likes to be stressed out, that's for sure. Imagine a mobile restaurant that supplies food to companies during their lunch break. That way, they don't have to think of going out to get something to eat. You could also start a POS business especially in a location where there's no bank nearby. Have you thought of these before? Well, now you know.

THINK OF IDEAS THAT APPEAL TO EMOTIONS
You could launch funny shows, expeditions, etc that relieve tension. This is just in one sphere. There are a million and one ways you can achieve this, just look around you.

THINK OF BUSINESS IDEAS THAT REVOLVE AROUND MAN'S BASIC NEEDS
What are our basic needs, can you help me? Food, water, shelter, and (this last one please), data connection. You can visualize and invent unique ways of fulfilling these needs for people.

WHAT ABOUT IDEAS THAT PREVENT PROBLEMS?
I bet you haven't thought of it this way. I'll help with an example; making woolen head warmers, sweaters, and wears that avert cold. You could even exercise some creativity by using multiple colors.

There you go, these are few ideas you could brainstorm with. In my next article, I'll be helping you with what to do after you've gotten a business idea. Look out for it, because it'll fuel your intention to establish a business before next year. No time to check time o
If you've got more ideas, you can share with us in the comment section, thank you.