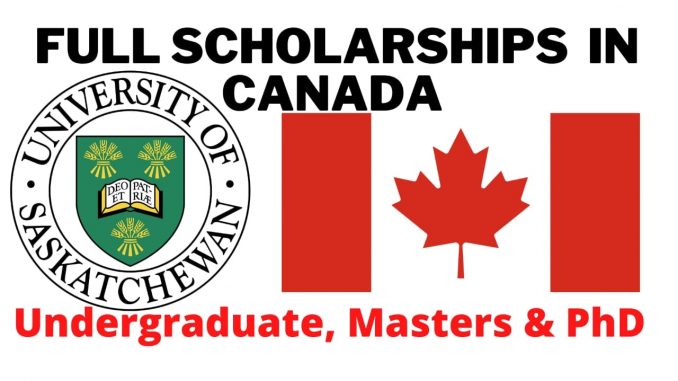 The University of Saskatchewan is one of the Leading Research Institutes of Canada. USask is a home of more than 3,000 International Students. Saskatchewan University is a Public Research University offering Degree Courses in Bachelor, Master & Doctoral Degree Programs.

The call is open to Apply For Saskatchewan University Scholarships in Canada 2022. You can continue your Undergraduate, Graduate & Ph.D. Degree Programs from Canadian Universities. USask Scholarship is a Fully Funded Scholarships For International Students. You will be able to get a chance to study at the Heart of Canada.

Canada is always on the top among International students although students have many choices. Canada is now giving Permanent Residency to Foreigners.
This Scholarship will cover most of your expenses because Canadian Universities Tuition fees are very high.
You will be automatically considered for some of the Scholarships at the University of Saskatoon.
Duration of Scholarship
• Undergraduate: Four Years
• Master: 2 Years
• Doctoral: 3 Years
Courses You Can Offer
1. Business and Economics
2. Agriculture, Plants, and Animals
3. Life Sciences and Chemistry
4. Environment and Earth Sciences
5. Health
6. History, Culture, and Arts
7. Indigenous Programs
8. Teaching
9. Languages and Communications
10. Math, Engineering, Technology, and Physics
11. Society and Law

Saskatchewan Undergraduate Scholarships
~ George and Marsha Ivany President's First & Best Scholarships: Value: $40,000 ($10,000/year over four years)
~ Chancellors' Scholarships: Value: $30,000 ($7,500/year over four years)
~ U of S Entrance Scholarships: Value: $24,000 ($6,000/year over four years)
~ Two USask Entrance Scholarships are Circle of Honour awards, which are preferentially awarded to Indigenous students.
~ Edwards Undergraduate Scholarships: Value: $24,000 ($6,000/year over four years)
~ College of Agriculture and Bio-Resources Renewable Entrance Scholarships: Value: $12,000 ($3,000/year over four years)
~ Competitive Entrance Awards" Competitive Entrance Awards include numerous scholarships and bursaries that can be accessed by many students with diverse experiences.
To know more About University of Saskatoon Undergraduate Scholarships (See Here)
Other Scholarships
These awards are for international students and are based on academic achievement.

~ University of Saskatchewan International Excellence Awards: Value: $10,000
~ International Baccalaureate (IB) Excellence Awards: Value: $20,000
~ Canadian Curriculum Schools Awards: Value: $15,000
~ For international students graduating from an international (non-domestic) Canadian curriculum school. Value: $15,000
~ Maple Leaf International School Awards: Value: $10,000

You can get more about Graduate Scholarships (Here)
Eligibility Criteria
To qualify:
• You must be an International student.
• You must have Bachelor Degree to apply in Master Degree
• You must have a college degree to get a scholarship in Bachelor.
• For Ph.D., you must have Bachelor Degree
• It will be awesome if you have IELTS, but if you don't have, then apply for Duolingo Language Test. It costs 50 USD only and you receive the results in 2-5 days.
How To Apply
The Applicants Need to apply Online. Find a Program, and check the admission Requirements and then Apply. To Apply, Please look at the Official website of the University of Saskatoon.
To Learn How to Apply (See Here).
Official Website Links
Graduate Scholarships, Deans Award
Check if you do NOT require IELTS, TOEFL or Any English requirement