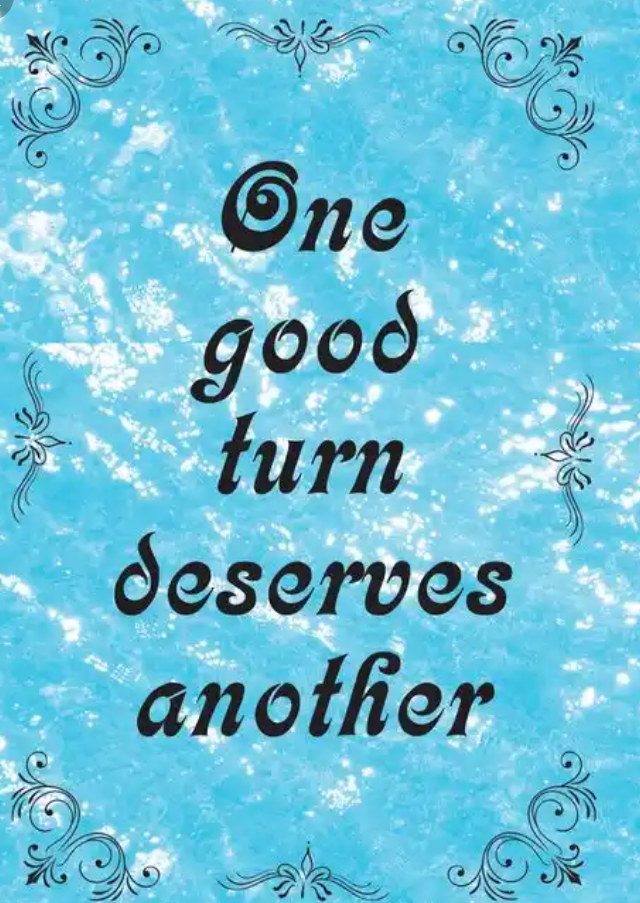 I'm sure you know the latter part of that phrase.
What does it mean?
One good turn deserves another simply means returning the favor of a good deed done to you. How many times have you done a good deed today? And was it reciprocated?
It's true that one should do good to others without expecting a reward. But there's a way you'll feel after being a beneficiary of a good deed that you would intentionally look for ways to return the favor. It's one way of making life easy for persons around especially now that different happenings in the world tend to result to depression.
I'll share a story…one which brought the phrase immediately to mind.
It was 5pm. The management had decided to review the closing time for work an hour earlier than the normal time. I'm sure you're waiting to know the 'why'.
Curfew had been declared to occur from 7pm till 6am by the State Governor to curb the recent killings in the state.
The once quiet environment of Old GRA was a beehive of activities as people were scurrying out of their various offices. Shop owners were hurrying to pack their goods, UTC road was already filled with impatient vehicles honking nonstop. "When will I get home today?" I wondered. I had never experienced traffic this tight in the Garden City. I could already feel that tingling sense of fear creeping up my spine.
But it was still a few minutes past 5pm, there's still enough time to get to Elekahia, my place of residence. So I calmly walked some distance amidst the vehicles. I finally got one and I entered and sat with a sigh.
Can you believe that we sat there for the next one hour five minutes without moving out of that vicinity? By this time, 90 percent of individuals who were earlier jam-packed in different vehicles were now seen on the side walk hurriedly walking. Some were even running. They kept making comments and funny statements about those of us who were still waiting for the traffic to lessen. I began to worry.
In my own taxi, we were just two ladies left inside with the driver. The rest of the passengers had abandoned ship. I turned towards her and asked about her destination; which turned out to be farther than mine. We then agreed to start looking for the black goat while it's still daylight.
Sadly, the driver asked to be paid even when the distance between where i entered the vehicle and where we were was short. The troubling thing was that I only had enough to take me home, nothing else. I didn't even hide it. But the driver didn't give a hoot about anything. It was his money and we had to pay. In my mind, I would be walking for a long time, so I thought.
We walked for quite a while and discovered that the traffic was caused by an intersection of vehicles and some men were trying to control it. Once we were out of the cacophony of noises, my companion started hailing a taxi. I was just about to continue my long walk home when she told me to join her. She paid my fare to Garrison. But she had a problem…
She won't be able to get to her destination before the curfew so she needed to get to her sister's house which was located at Boms Street. Here's the thing… She couldn't remember where it was. What she didn't know was that it was close to my current residence.
Once we got to Garrison, I paid our fare from there to Elekahia through Nkpogu, all the while I was explaining the route to her. After we alighted, I accompanied her and made sure she got to her sister's place before I left to my own. She was grateful but I was only returning a good deed done to me. Not because she was good to me first, but because she needed the help.
Now that's an example of one good turn. Who have you helped today?
On your way out everyday, resolve to do good. Make a positive impact in someone's life even if you're just meeting them for the first time. It's the thought that matters.