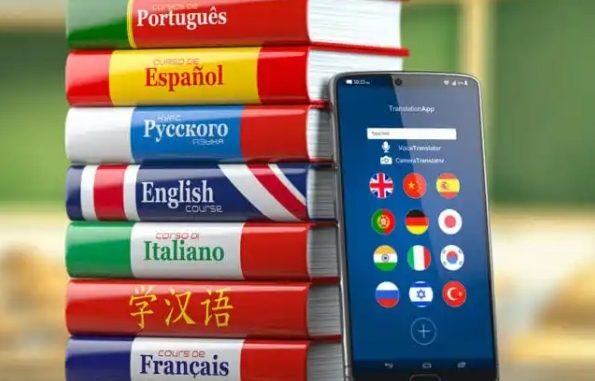 Total views: 146

Some time ago, I updated my status with a request for someone who is either currently learning español or just a lover of the language. As you go through this article, you'll understand why I did that.

Let's Go.

Are you trying to improve your language skills or you are already proficient in certain foreign languages like Spanish, French, Mandarin, German, to mention a few, I'm happy to inform you that you can make some cool cash from just being skillful in a foreign language.

There are plenty of ways in which language skills can pay off. But, if you're yet to be experienced, don't be shy about catching up – I do recommend trying out these language learning apps:
• Duolingo offers around 35 courses, including French, German, Spanish, and Portuguese, with structured courses covering everything from basic vocabulary to advanced grammar.
• Memrise has an enormous 1,000+ language courses, from Korean to Cherokee and everything in between. They use a mix of official Memrise courses as well as those compiled by community members, too.

Both platforms also use creative and fun ways to make language learning more pleasurable. To be explicit, this means colorful content, plus lots of interactivity and enthusiasm to work at it, which usually involves bagging points and bonuses as you advance through lessons.

There are also lots of free single-language apps and websites out there – just keep searching! Most universities even teach, so they may have free aids, too, including tapes, books, and videos to borrow, or even taught courses run alongside degree programs.

There's one thing you need to do…

Get a conversation buddy!
Now you get it! Pertaining to the first paragraph, I was looking for a conversation buddy. Dialogue practice relates to conversing about everyday topics with someone who is also learning or a teacher or advanced speaker. It is a way to test out or improve what you've learned.

There are also ways to get your conversation practice in for free, usually, by swapping a language you know with someone who speaks the language you want to learn. So, if you want to get paid for talking, you need an angle. Take a look at these:
• Advertise your strengths – If you're learning or have teaching experience, don't be shy to publicize yourself. Tell people!
• Focus on a niche – Think about necessities for business travelers, medical or legal vocabulary, technical terms, phrases for students or sports fans.
• If you are a native speaker, then use your accent – Regional differences can be the most problematic aspect of a language, so if you've got an accent, make the most of it.

Once you've garnered some experience, setting up an online 'classroom' will be easy as ABC.
Most messaging apps let you vary your style of interaction: use video chat for role play and speaking practice, or stick to texting or emailing for writing skills (or if you're camera shy!).

Alternatively, use notice boards, leaflet drops, and language clubs to get in touch with local learners.
Now, to the object of this article…

WAYS TO MAKE MONEY FROM THE LANGUAGES YOU CAN SPEAK
Create Language Resources
Teaching doesn't have to be about real-time interaction: there's also a need for language learning resources, from ebooks, textbooks, and quizzes to stories and podcasts.

The format is easy but works: short stories using basic words and sentences, with an English translation alongside. If that sounds like your fort, search for online guides to publishing eBooks!
You can also sell quiz sheets, grammar notes, vocabulary lists, or audio lessons. If you've got the coding skills, you can make use of these by creating an app too.
Make Language Videos On Youtube Or A Language Blog
YouTube and language blogs are a striking way to make money. You just have to teach what you already know.
Here are Illustrations of language topics to teach online:
• 'How to greet in Spanish'
• 'How to lose your accent and sound like a local'
• 'Ten shocking phrases or customs you'll find in Paris'
• 'Language pointers: anything from grammar requirements to conjugating verbs'
• 'Everyday circumstances (like buying groceries, traveling, bus tickets or asking for directions)'

Blogs and YouTube videos are winners for monetization, by running ads alongside your content or linking to books, apps, or products as part of your work.
In summary, you can make money from teaching foreign languages with your blog and Youtube videos.

Teach English As A Foreign Language(TEFL)
Whether you're after a side hustle or a career, getting a qualification or work experience (through TEFL, for instance) can help you become a better educator.

Some courses even cover the practical side of things beyond the teaching part, such as how to go freelance, find work or teach online.

TEFL is a common teaching path with the opportunity to travel and work abroad once you've got your qualification. Courses can be expensive and can take a bit of dedication.
Work As A Tour Guide
If you like walking and you have a compelling voice, tour guiding could be your sweet tooth. It's also one of the few freelancing gigs that you don't need qualifications to set up.
You don't even need to start anything at all – you could find tour guides who already operate in your area and just offer to ride along as an interpreter.
That said, it's fairly simple to go it alone: you just need a set of walking routes, excellent local knowledge, and some decent jokes. You can lead tours in English if that's all you speak, but a second or third language gives you an edge (and you'll likely be able to charge more for your services).
Work As A Freelance Translator
• Make money translating books
There's a growing demand for translated editions of books from a legion of authors and publishers out there. Get involved by making yourself visible. Set up a blog, join writer forums like Goodreads, or get vocal on social media. And don't forget to reach out to people on LinkedIn. Find your authors!

You may also find opportunities by approaching academic publishers or app developers. For example, if you spot a game you like, check if they offer it in the language you speak. If not, reach out to them.

• Translating for businesses
From managing a Facebook page to composing assembly instructions and ads for foreign markets, there's lots of domain for translation with businesses and corporate customers. Look out for job postings!

If you prefer to network remotely, you can try sites like Upwork or Fiverr to sell your time and skills.

How to do this?
Just register and advertise your freelance services on social media. Get a blog, YouTube channel, Facebook page, Twitter account, or LinkedIn Profile. Think about which channels your customers use most and spend time developing those accounts first – and don't forget to be professional.

Contact local businesses and charities to find out about freelance vacancies.
Sell yourself!