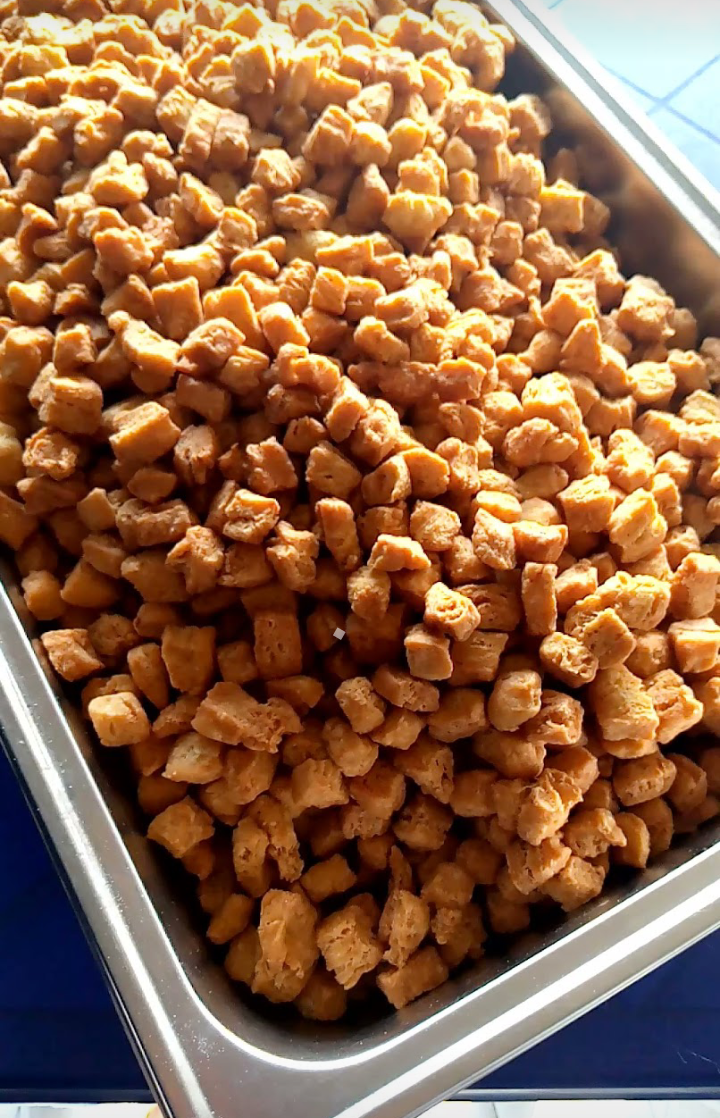 It's a Sunday and pots are probably already sitting beautifully on heat doing what they are meant for…cooking. A survey I recently conducted showed that 90 percent of families have made rice their regular Sunday dish. The most common one is rice and stew…which is my favorite by the way.
But who told us that Sundays are for rice, just like most families make bean cake otherwise called akara and pap(akamu) on Saturday mornings? I wonder!
Although rice and stew is a great dish, have you ever tried making some snacks as appetizers before your family's Sunday lunch? This would make everyone in your house look forward to the end of service so that they can eat. That's on a lighter note though.
So I'd like to recommend some snack delights you can make while lunch is cooking…peanuts, yam, plantain or potato chips, stove pot popcorn in 3 minutes, chin-chin, etc.
I want to show you my chin chin recipe so that you can try it anytime you want, so here goes:
HOW TO MAKE CHIN CHIN
Ingredients
8 cups (1kg) plain flour (all purpose flour)
1 tin Peak Milk
250g margarine
½ cup granulated sugar
2 tablespoon of baking powder
2 teaspoons ground nutmeg
2 eggs (optional)
Some water (only if necessary)
Vegetable oil (for frying)
Procedure
1. Sift the flour into a big bowl.
2. Add the granulated sugar and ground nutmeg and mix.
3. Add the margarine in small scoops. Then rub it into the flour till you get a good mix that feels like crumbs.
4. If you are using eggs, break and add them now and mix very well with the contents of the bowl.
5. Add the peak milk, mix with a spatula. Then knead by hand till a ball of dough is formed. It may feel dry during the mixing but do not be tempted to add more liquid because the liquid you have in the bowl should be enough. You just need a bit of strength to mix it unlike when you're mixing cake batter. But if you really can't get it to form a dough, add a tiny quantity of water bit by bit till the dough is formed.
6. When done, cover the bowl and leave the dough to rest for about 15 minutes.
7. After 15 minutes, you will notice that the dough is softer. Knead very well.
8. Roll out small bits of dough and cut with a knife or a pizza cutter as shown in the video below. Do not use flour to dust Nigerian Chin Chin because this causes the oil to foam during frying. If you mixed the Chin Chin very well, there will be no need to for dusting while cutting the chin chin.
9. Pour a generous quantity of vegetable oil into a deep pot and set your stove to high heat. Chin Chin fries best on high heat.
10. As the oil heats up, test the temperature with one piece of raw chin chin. If the oil is hot enough, the piece of chin chin should sizzle and come up to the surface almost immediately.
11. Once you confirm that the oil is hot enough, gently collect some chin chin from the side of the mound of diced raw chin chin with both hands and throw into the hot oil. Do not overcrowd them.
12. Start stirring immediately with a metallic spoon, shaking the spoon from side to side till all the pieces of Chin Chin come apart.
13. After that, keep stirring at intervals till the Chin Chin browns to your liking. Remember, the Chin Chin will go one shade darker when you take them off the oil so you need to watch it.
14. Once you've removed it from heat, scoop into a sieve lined with a paper towel. Then fry the rest of the diced raw chin chin in batches.
15. After some time, spread them on a cold hard surface lined with newspapers and paper towels so they can cool down completely.
16. When completely cool, store in airtight containers. Place it on your kitchen counter, in the fridge or in the freezer and your chin chin is ready.