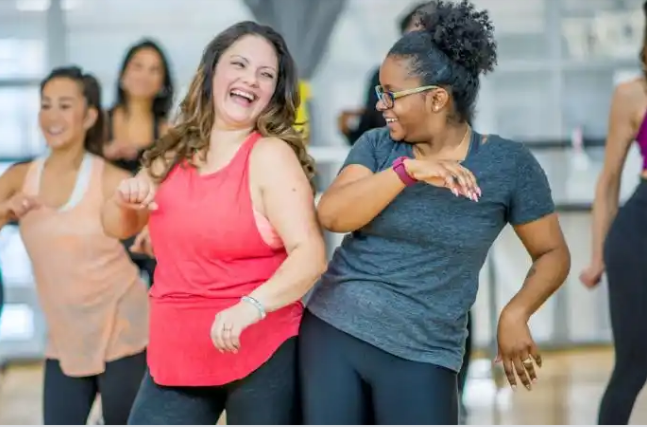 Dancing is one activity I've struggled with since I started knowing what's right from wrong. Aside from the difficult moves which take time and practice to learn, I'm always so self conscious about moving my body erratically in front of people around. This has been a big deal but I know I've gradually evolved from just standing like a rod to learning to clap my hands.
Then I started moving my head and shoulders. It's been a wonderful process even though I still feel stiff while doing some easy steps. Sometimes I laugh at myself and wonder what people think when they see me dance.
But I don't really care. And that's because there's a certain joy I exude while flailing my body, it brings out my beautiful smile and I can't trade that for anything. There you go…that's one reason why people dance. For more, see Why do people dance?
The ability to move rhythmically to music, typically following a set sequence of steps isn't limited to that because it plays a deeper role in our lives. That's why John Weaver, the notable ballet master of English descent argued that,
" Dancing is an elegant and regular movement harmoniously composed of beautiful attitudes and contrasted graceful posture of the body and parts thereof".
Dancing goes beyond synchronized choreographic steps. It is an expression of the body, mind and heart being in sync. This happens especially when you have the ability to process music, understand rhythm, and have a good sense of coordination to be able to do basic moves.  We dance for body fitness. We dance to clear our heads. We dance for psychological stability. Only if you can let yourself go. Don't be overly conscious of how flabby or plump you look.
If you even want to be master of choreographic moves and you are not able to get them correctly, you should give your body time to adapt to what you're teaching it. See more details in Reasons why your dancing looks amateur and how to fix it.  Continuous practice makes perfect. It is possible.
Whenever you are dancing, no one is paying attention to you
Whether you admit it or not, this goes through your mind; and this isn't just in dance. It is a general feature in life. People always think they are being watched. No one is watching you, why would they? When everyone is so engrossed in their own affairs? C'mon! Come off it! Focus on yourself!
Your dancing doesn't have to be perfect
I constantly remind myself of this. Nobody cares if you're making mistakes while dancing. You don't have to be dropping it like it's hot all the time. Move your body, it's just dancing. Shake it anyway and have fun.
It is okay to be shy
Yes, it is definitely okay! But you don't have to stay that way. Close your eyes and imagine that you are alone in the room and just do your thing.
So you've come past the hesitation and you want to be the best dancer or maybe you just need to prepare for your wedding day. Here's what you should do…
This would help, especially when you are consistent about it.
You'll have to swallow your pride for this one. That's only if you're serious about learning it
Take your practice seriously
No one is born an expert. Everyone takes a process to be better in their field. Why won't you?
Set deadlines for yourself
This helps you stay on track and keeps you in your feet. It's useful when you've set goals for yourself.
Watch dance videos to inspire yourself.
Remember your morning stretches and yoga. They help you gain stamina to improve your dancing techniques.
Do you know how to dance? What did you do to be so good with it?
Sharing is caring so please do that in the comment section