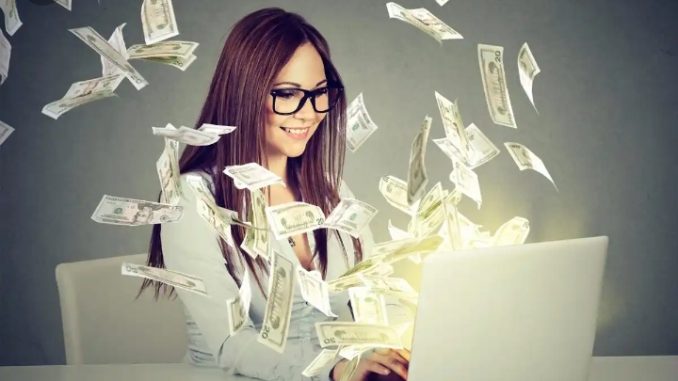 I've come to discover that there are a lot of apps you can download today to help you as you sail properly in your financial voyage and some of these apps are for market analysis, advertising, networking, etc.

You must also take note that these same apps could also be avenues for you to be conned, especially, when you have been asked to register with a fee or when the potential earning is too much.

You can get access to these apps by downloading them via your iOS and Android phones.The following are some of the apps that can pay you real money.

Let's go…
WORDPRESS
WordPress is one app that can pay you some good money if you know how to use it well. It is the largest online outlet which has over 30% of all websites powered by it. There are so many ways to make money online using WordPress, which are:

• : Sell sponsored blog posts: This occurs when a company reimburses you for advertising its products or services on your blog.
• Build and sell WordPress websites to people: You can build a WordPress blog, boost it to get traffics, then sell it to interested persons. In this case, you have to know the type of website that is in hot demand and how to price and sell them.
• Writing paid reviews: This is one thing you can do that doesn't require any skill. You can choose to promote people's products or services by writing fantastic reviews on them and getting people interested in purchasing or using them. For each review, you are paid some cash.
• Affiliate marketing: Affiliate marketing involves the suggestion of a product or service to an audience using certain links. For each purchase of the product or service through your link, you get a commission. This is the simplest way to make money as you would have to promote a variety of products on your WordPress platform.
• Google AdSense: In this case, you can add a script from Google to your website, then, start displaying adverts. Anytime a user clicks on the ad, you will get paid. It is also called cost per click ads (CPC).

FACEBOOK
Facebook is almost every one's favorite. It is the largest social network app worldwide. You can make real money whether you are in Nigeria or any part of the World. You should consider starting a side hustle using Facebook, instead of just using your data for chatting, watching videos, or killing boredom.

The first thing you must do in this case is create an attractive Facebook profile. Put a face to your name by using a nice profile photo. Then in your profile description, give a captivating description of yourself, contact website, your location (optional), and so on. Let your profile show that you are ready for business, in order to bring the right customers.

You can sell anything on Facebook, except prohibited items like alcohol, illegal drugs, firearms, etc. The good news here is that you must not have a shop before selling your products and services. Strategies you can make money using Facebook include:
• Creating good content: An attractive content will bring customers like a moth to a flame. People will notice you and traffic will be directed to your account. So, your focus now would be: learning how to create good content.
You can even create a live video and give lectures to people while answering their questions and engaging them.

At this point, you are now an influencer on Facebook. Other Facebook users can use your leverage and advertise their goods on your wall. You will earn a commission based on the number of people that purchased the product through your influence.

• Join some entrepreneurial groups: Sometime ago, I joined some writing groups and I noticed how some writers where advertising their ebooks. If you have products or services you want to promote using Facebook, there are some groups created for simply buying and selling.
There is a feature on Facebook called Facebook Marketplace where anyone can trade anything. All you have to do is sell yourself.

• Generate Facebook ads. Facebook ads require opening a Facebook page. The good thing about this characteristic is that you can reach an audience based on their location, interest, gender, age, and others. However, you may not be able to sell much if your products are not on-demand.

• Be a social media manager: you can help to manage the Facebook accounts of prominent people, celebrities, or communities. By operating a social media account, your duties include organizing Facebook posts, replying to comments and inbox messages, regulating ad campaign metrics, putting together an audience, and so on.
• Apply for a job: Like I mentioned earlier, your profile determines the kind of client you will attract. Companies and individuals advertise for a job on their Facebook pages or using the Facebook job tab. You can see some of them on your news feed or when you use the search button. Whether part-time or full-time, you could be lucky to get a job.
INSTAGRAM
With more than a billion users, entrepreneurs have learned how to infiltrate their audience through Instagram. To make money on the platform, you have to do the following:

• Become an influencer and build your brand: Get an impressively large number of followers with envious engagements. You can sell your products.You achieve this by choosing a niche, growing your audience, and probably, partner with great brands. Like in other apps, turn your audience into your customers by creating meaningful content.
• Become an affiliate marketer: This is common to most of the apps. You can only make money when your followers buy the product. However, there is no stress of having to produce your products. As an influencer, it is good to know your worth and how much to charge for running an advert with a certain number of followers. Similarly, keep tabs on competitors.
YOUTUBE CHANNEL
You need to set up and build a YouTube account. Add keywords that conform with your content to enable people to locate your channel easily.

After creating your account, you are required to upload content. The content should be of high quality and not so long, and you must post regularly too.

To increase your monetization, build an audience. When people watch your content, you make money from it. You can share it on different online platforms and also get your friends to help you share on their platforms to get people's views. Respond to their comments and answer their questions.

Enable monetization by allowing YouTube to place ads in your video. When you can get up to 1000 subscribers and 4000 watch hours within 12 months, you will start earning money from YouTube. This could be challenging, but when you master it, it will be easier for you.
SET UP A GOOGLE ADSENSE ACCOUNT ON THE ADSENSE SITE.
A PayPal or valid bank account will be required of you, together with a valid email address and other personal information. Each ad click and view earns you money which adds up over time. Remember the more views it gets, the more your money increases.
MONEY APP
Money App is a market research app that earns you a financial token for completing a task. The tasks required of you to complete using these apps include playing games, offering opinions, testing services, checking store displays, participating in free trials, among the rest.

When you open an account on the Money App, your tasks commence as you accumulate rewards that would earn you money. The money earned is redeemed through a PayPal account. Within two to five working days, you are sure to redeem your money from PayPal, unlike other apps that can only pay once a month.
IPOLL
This app is a market research app that is customized to allow you to earn money by taking market surveys, completing missions around retails, or writing down daily consumptions. When you register, you are asked a few vital questions like your location, consumer habits, and preferences.
This is to ascertain if you are qualified for the task to be assigned to you or not. After the registration, you are sent an alert to complete a survey, task, or mission based on the information you provided.
You earn rewards for each survey, task, or mission which can be cashed out using PayPal ($10) or redeemed for gift cards. There is also a quarterly sweepstake of about $10 000 and you could be qualified to enter that.
FOAP
Foap is a photography app that allows photographers, both professional and amateur, to make money by selling photos taken on their phones. Brands, marketing, and advertising agencies come to the site to source quality photos and pay for them.
When you download the app, you register an account and upload high-quality, clear images. The images are rated by the members of the community. The number of ratings will determine your chances of being paid. You can earn as low as $5 and as high as $100 for each sale. Videos are gradually making entry into Foap based on specific requests.
MICROSOFT BING SEARCH
With Microsoft Bing, you can bank on fast quality search results, trace topics and trendy stories that are important to you, and your privacy is guaranteed. You can also skip typing and search with your voice, your camera, or a picture from the web with Microsoft Bing. Join the Microsoft Rewards program and start earning points just by searching on Bing. Reclaim points for gift cards at participating stores.
UPWORK
Are you looking for an app that can help you monetize your skills and pay you real money? Check out this app.

FIVERR
Fiverr is another online marketplace for freelance services. All you need to do for this app to pay you real money is to have the skills and learn how to sell it. Click here to read my article on how to start selling on Fiverr.

Some individuals do not find it a big deal to make an extra income, particularly if their job is paying off well. They may feel they could cut their budget to accommodate an extra need. If you are in that category, we are here to get you to see reasons making an extra income is one of the best decisions of your life.
Now what's the reason for learning how to use the above mentioned apps? It's to earn an extra income so that you can reach your financial goals quickly. By this, you will have a backup plan.. You can also be on your way to financial freedom by putting in extra hours of work.Just think up which one of these apps you can use and take it up from there.